I've been on a tear recently.
Ladies and gentlemen, you're reading the words of the FBS rushing leader through the first three games of the season.
3 @bigten running backs lead the way in rushing yards so far this season

Which player do you wish was on your team? pic.twitter.com/8738hBfFcZ

— FOX College Football (@CFBONFOX) September 22, 2022
Unfortunately, that's not actually me.
I know. I know. Disappointing.
Chase Brown is draft-eligible after this season and might not return to the Illini for another year. However, if he does, I promise I will find a way to get together with him and do a Q&A – one that will be even better than the Mike Hall feature on the Big Ten Network.
But I digress. Let's have a good Friday, shall we?
 FARMER GRONK ON THE RADAR. Cade Stover's emergence in the Ohio State offense this year is something of a surprise, as the Buckeyes have never quite used the tight end as a consistent option in the passing game.
But Stover, or "Farmer Gronk" as Griffin Strom has nicknamed him, is demanding attention from C.J. Stroud as a legitimate threat through the air. In three games this season, he has caught eight passes for 137 yards, including three 30-yard receptions.
Cade Stover reacts to C.J. Stroud comparing him to Rob Gronkowski: I love Gronk. Im a huge Jeremy Shockey guy, thats my favorite tight end of all-time. I dont know. Thats a very nice compliment by the fella right there. pic.twitter.com/xGqVjTGNXx

— Dan Hope (@Dan_Hope) September 21, 2022
"Cade has done a good job getting open downfield and catching the ball," Ryan Day said Thursday on The Ryan Day Radio Show. "He's running routes. He can get open against safeties and linebackers, so that's become a weapon for us."
C.J. Stroud Cade Stover @OhioStateFB off to a HOT start pic.twitter.com/9LoeMwUO1g

— FOX College Football (@CFBONFOX) September 17, 2022
NFL draft analyst Dane Brugler of The Athletic believes professional scouts have taken notice of Stover's hot start to the season. If he keeps pace with his current receiving numbers through the first three games, Brugler says the 6-foot-4, 255-pound tight end could ascend draft boards in 2023.
Over the past three seasons in Columbus, Cade Stover has been an important depth player on offense, defense and special teams. A four-star linebacker recruit out of high school, he started out as a defensive end in 2019, then moved to offense in 2020 and back to linebacker midway through 2021. Though the coaches acknowledge Stover's heart is likely on defense, they also see his immense offensive potential and moved him to tight end for the 2022 season.

With tight end Jeremy Ruckert now in the NFL, Stover became the Buckeyes' starter this season and has made an immediate impact. Through three games, he has graded extremely well as a blocker and is averaging 17.1 yards per catch with zero drops on 11 targets. Stover is a draftable player based on his blocking and special-teams pedigree. But as he emerges as a legitimate pass-catching option, his draft stock continues to rise.
​Brugler also mentions Stroud in his article, claiming the redshirt sophomore quarterback is one of the "must-see NFL prospects" in this weekend's slate of college football games. According to Brugler, a strong performance from Stroud against Wisconsin could be all scouts needs to see to confirm their belief in him as a top-flight NFL prospect.
C.J. Stroud flexed his passing muscles last week against Toledo with 81.5 percent completions, 367 passing yards and five touchdowns, giving him an 11-to-0 touchdown-to-interception ratio in 2022. But the Wisconsin defense has allowed only one passing touchdown in three games this season. Defensive coordinator Jim Leonhard is one of the best defensive minds in college football, and Stroud will help himself in the eyes of NFL evaluators with a productive performance.
 A ONE-MAN WRECKING CREW. The last time Wisconsin visited Columbus, the Badgers entered a battle with The Predator. Let me tell you, folks; The Predator won that bout again and again.
Chase Young had an all-time great performance for Ohio State on Oct. 26, 2019, recording six tackles, five tackles for loss, four sacks and two forced fumbles against Wisconsin. As FOX color commentator Joel Klatt pointed out, he was "a one-man wrecking crew."
I don't expect any Ohio State defensive lineman to replicate this performance from Young on Saturday. However, with the talent in that room, I wouldn't put it past them to reach or exceed that number collectively.
Something I do expect to happen is the score to look similar to the programs' regular-season meeting in 2019. It might not be 38-7, but the Buckeyes look poised to hand the Badgers a loss for the ninth consecutive time, and potentially in blowout fashion.
 A MESSAGE FROM GARRICK HODGE. For this blurb, I'm passing the keyboard to my friend Garrick Hodge. He has a message to share about Eleven Dubgate and its support of Special Olympics Olentangy.
Greetings, all. 

On Saturday, I will attend my first Eleven Dubgate. With that said, it feels strange to advocate the event, but I feel strongly for this event's purpose, which is raising money for Special Olympics Olentangy.

I don't often write within the confines of the glorious Skull Session, so a special quick thanks to Jason Priestas and Chase Brown for allowing me to explain why Eleven Dubgate is such a noble cause.  

I've always looked up to my uncle, Gordon Hodge. He has a smile that stands out in any room, a genuine love of people and community, and – especially in his younger years –is as strong as an ox. He's always been an avid sports fan and has always supported me in my career. Family members will sometimes tell me of how he plans his Saturday's around watching Ohio State and gets "very upset" when the Buckeyes don't do well. 

Gordon was easily the most athletic person in our family (sure as hell wasn't me). He's also the one responsible for saying a premeal prayer before every family gathering, and he has one of the most optimistic outlooks on life.

Still, my uncle has had challenges throughout his entire life because of things entirely out of his control. I'm not a doctor, nor do I play one on TV, so I cannot speak on the specifics on the exact nature of his medical diagnosis. However, I believe the fairest way to explain it is that he is a special needs adult faced with various health and cognitive challenges. 

But that hasn't stopped him from living life to the fullest. Gordon has always been incredibly active. In the early 2000s, he was damn good at snowshoeing. He trained year round with a Special Olympic organization in Wisconsin, which was made possible by funding that partially came from donations – the same donations that can be made to Special Olympics Olentangy at the Eleven Dubgate event.

In 2004, he was so good at snowshoeing, he qualified to represent Team USA in the 2005 Special Oympics World Winter Games in Nagano, Japan. I had this dumbass thing to do called middle school, otherwise I would have went. My father was lucky enough to attend, though, and he watched his brother win three gold medals.

On March 1, 2005, his relay team took gold. A few days later, he won the gold for the 1,600-meter race and a day later he finished first in the 5k event.

My Dad called – likely with tears in his eyes – while watching his brother fulfill a lifelong dream, something I'd also understand almost a decade later when I watched my brother win an X Games gold medal. 

When my uncle returned home, he lived up his 15 minutes of fame. A few local news organizations came to film and write stories on him. I remember eating breakfast with him one morning, his cereal by his left hand, and his case displaying his three medals in his right. He was proud of himself and felt like a champion. I can say wholeheartedly winning those medals was probably the best moment of his life. That and the Cubs winning the World Series in 2016 (sorry Cleveland fans).

I don't know if that trip to Japan would have happened for him if not for the generous donations of friends, family, and complete strangers that were moved by his story. Because of their selflessness, nobody will ever be able to take away those memories and accomplishments from him.

Which brings me to one final request. 

If you have the means, even if it's just a small contribution, I'm asking you to help provide the people at Special Olympics Olentangy a similar opportunity to what my uncle had, because you could be giving someone one of the greatest moments of their lives. A person that has worked for it and deserves it.

Thank you for your consideration in donating to Eleven Dubgate and Special Olympics Olentangy. Everyone at Eleven Warriors hopes to see you there.

Time for me to get back to writing about recruiting.

Garrick Hodge
 ELEVEN DUBGATE X LETS THE GOOD TIMES ROLL WITH BAR CAR COLUMBUS.
Looking to upscale your next event? When BarCar Columbus rolls up, you're getting more than just a stylish bar on wheels—you're getting a total experience. Your guests will talk about it, pose with it, and never be far from it.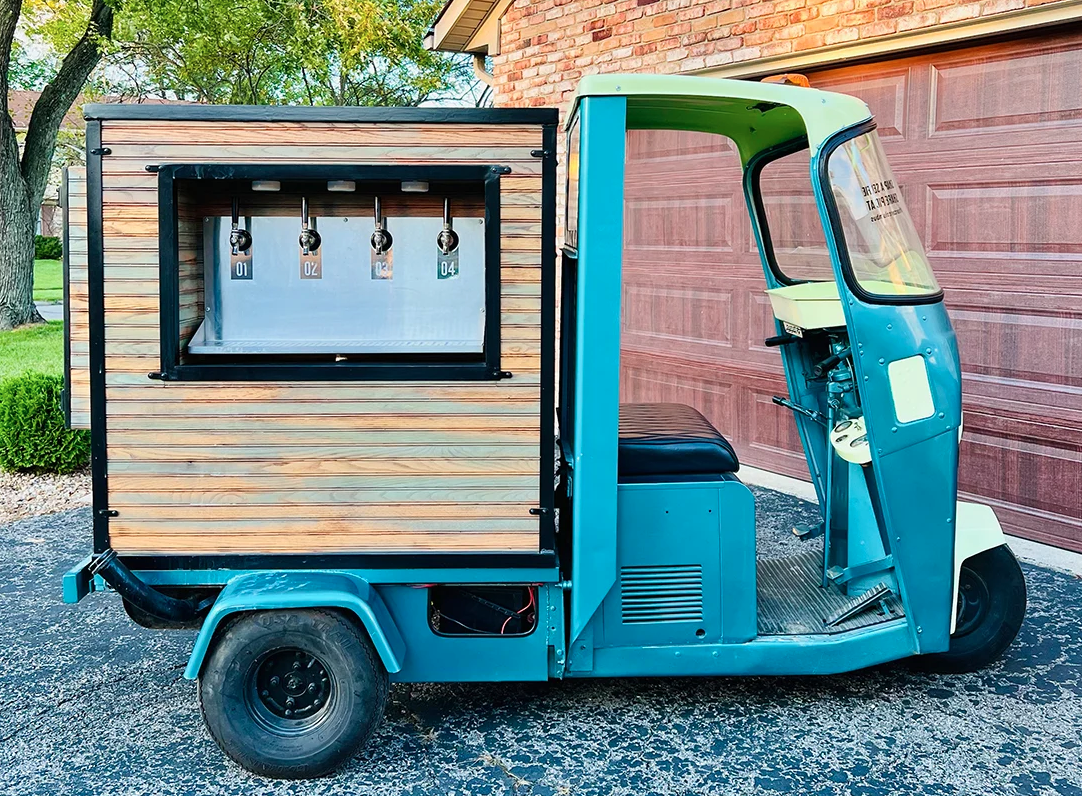 Complete with four taps, plenty of storage space for cups and a cabinet to keep your beverages ice cold, BarCar is entirely self-contained. Whether you're serving beer, wine, champagne, mixed cocktails (or even soda!), each of the taps can be customized to fit the needs of any event. Better yet, it requires no electricity to keep things going so that means BarCar Columbus can bring the fun anywhere!
Doors open at 3 p.m. for Eleven Dubgate X, which is being held this Saturday prior to Ohio State's game with Wisconsin. This event relies on your donations, which will benefit Special Olympics Olentangy. Cash and Venmo (@OSSOSTORM) are both accepted.
 SONG OF THE DAY. "House of The Rising Sun" by The Animals.
 CUT TO THE CHASE. Florida highway covered in Coors Light beer after semi crash… Woman who brought raccoon to North Dakota bar is charged… Tesla has recalled more than 1 million vehicles… 15 years ago, Oklahoma State head football coach Mike Gundy was a 40-year-old man… The University of California-Irvine has broken another world record.