I play about 60% of my action in the "cash game" every week. Cash play refers to any competition in which approximately 50% of the field is paid out, such as head-to-head, double up or 50/50. I try to do as much face-to-face action each week and then supplement it with other cash games.
Every week, I'll be reviewing my cash-game lineup in this space. Sometimes I will lose, but hopefully I will win more often. Anyhow, I'll post it here and give you my thought process.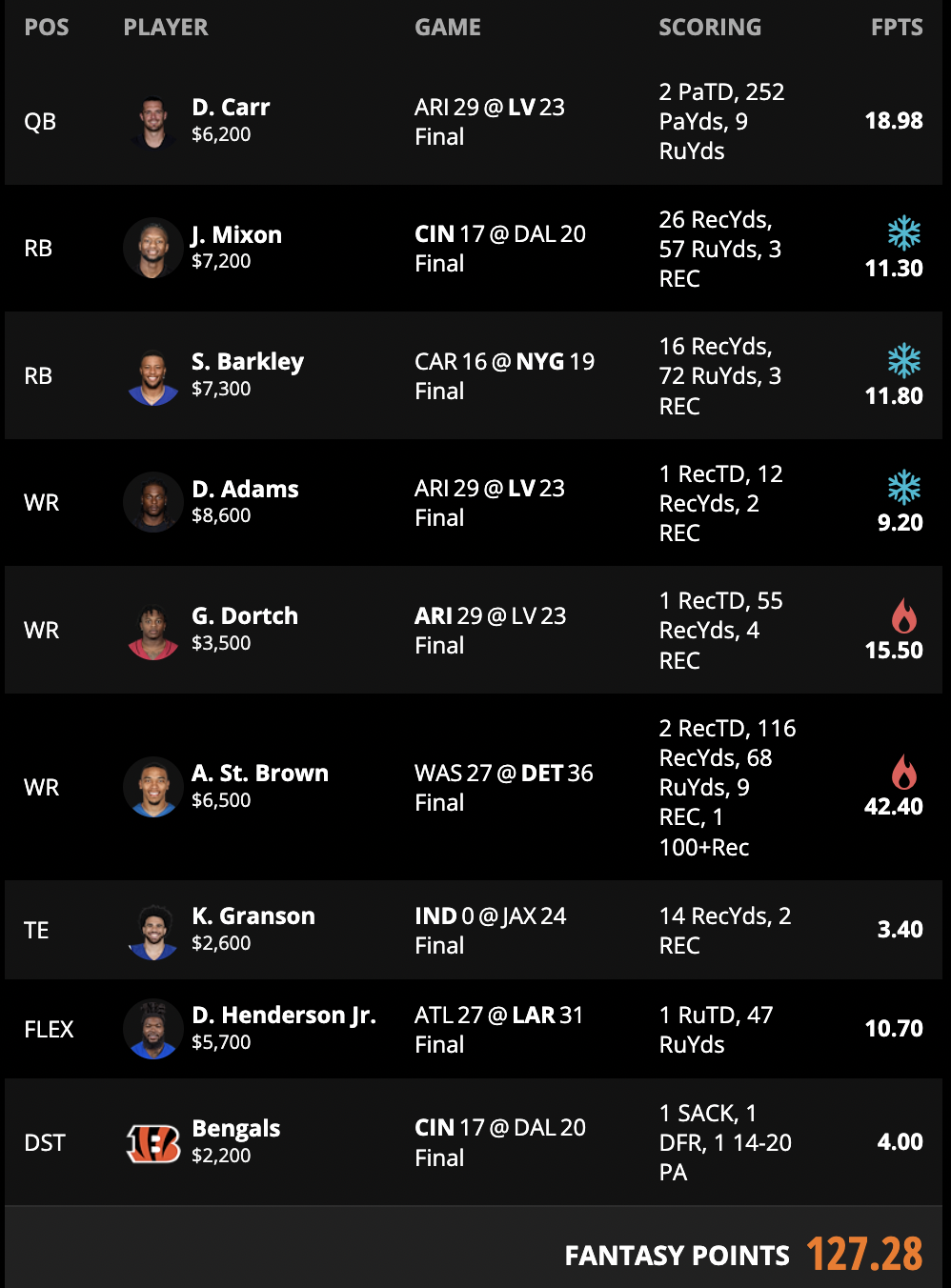 It was a relatively straight slate. Unlike Week 1, we had access to a lot of strong bargains. There wasn't a ton to reach for the expensive end, which produced a clear balanced build with a ton of upside. My goal wasn't to spend more on players just because I had the money – I wanted to create a bigger range in as many places as possible.
i should play
* I rarely consider a D/ST to be "must". But DraftKings released Week 2 pricing before Dak Prescott's Week 1 Sunday Night Football injury. it meant Bengal D/ST Cooper Rush against $2200 (my preferred cash value range to defend). Also note that Brandon Thorne placed the Cowboys OL in 19th place this week.
* Last week, Saxon Barclay Should be around $6100. Considering how healthy he looked and his unique three-down plus goal-line role, $7300 at home against the Panthers was a lock. There just aren't many explosive running backs that get all the opening work, all the pass-down work, and all the goal-line work. Those players are almost always worth $8500 or more.
* The Cardinals have one of the worst secondaries in the league. davante adams As we saw in Week 1, the 45% target is capable of stake. The Raiders also featured some goal-line pass plays, which made Adams a unique fantasy WR in Green Bay. I wasn't feeling Adams at this place at $8600.
my want play
, Amon-Ra St. Brown There was no lock by any stretch. They were priced relatively reasonably at $6500. But those who have been following it since the summer know how I feel about The Sun God, his potential, his role, and how he fits in with the good that Jared Goff does.
I really, really wanted to get in touch with the WAS-DET game, because the Lions combo of offensive ability and defensive invulnerability lead to shootouts. So when I saw some Jerry Judy combos, I thought the ARSB sides were a good chunk for the cash. It's really hard for St. Brown to get lost in this Lions offense and atmosphere – JuD can certainly get lost in all the pieces and efficiency concerns of Denver.
*It was important to understand the context of the running back slate this week. There were at least six RBs that I thought were really strong cash plays, and a few more solid ones. In places like that, I try not to spend a whole lot unless the spots are pristine. And they weren't.
Given the Colts' injured offense situation, as well as the line crashing toward Jacksonville, I thought there was a good chance the Jaguars could control the game. Obviously that doesn't bode well for Jonathan Taylor. And at $9900, we have to be really tight-lipped.

And while I loved Christian McCaffrey a lot, he was still on the road, perhaps a bit shakier than in the past in a near-game role.
I liked the mid-range RB the most Joe MixonThose whose near-game role showed real signs of improvement week 1. Given this and the superior offensive line, Mixon's aggressive atmosphere and talent plus role was distinctive—especially at $7200.
I preferred Mixon to Leonard Fournette, as the Bucs had a tough matchup with a brutally poor offensive line and no Godwin/Julio. I preferred Mixon over D'Andre Swift, who was suffering from an ankle problem. The Cardinals' underground offensive floor had turned me away from James Conner, and Jevont Williams was a bit too expensive for a timeshare back.
*Slate had the trickiest spot Darrell Henderson, If you're a member, hopefully you can read Top Plays on Sunday Morning. I added a note there because a source told me that Akers will have a much bigger role in week 2 than week 1. But even though the source was correct, Henderson worked everything out for just $5700, so I stick with that. I was not ready to compromise with Surya Dev to get out of Dhendo. Even at only 50% of the RB workload, Henderson was a decent game at this spot. We had estimated 63%.
*It was a very easy slate on the tight end. The lineup I wanted to play had to save money on the tight end, and Travis Kelce wasn't on the slate anyway. Mark Andrews or Darren Waller would have been nice, but the RB and WR I wanted to play on that range was strong.
So I really only considered three tight ends: Juwan Johnson, Kyle Granson, and Albert Okuegbunam. And I didn't feel the need to spend an extra $1200 on Albert O after the Broncos threw the ball at four different tight ends in Week 1.
This left out Johnson v. Granson. With both Michael Pittman and Alec Pierce out, Granson's goal competition was weak. But Johnson had a better position against the Bucs' pass-funneling defense. The two anticipate their quarterback's massive amounts of dropbacks running a route. In the end I slightly favored Granson for the chance in a more special role, but it was a coin flip.
*I really only considered two quarterbacks: Trey Lance and Derek Carey, I thought briefly about Lamar Jackson, but playing him meant I had to make sacrifices at wideouts. And whenever it comes close, I prefer to pay on QB rather than WR.

So I just let the rest of my team and my 1pm ET decide who I played between Lance and Carr. In this build, I had money for Carr (that was $500 more). And since I started off well with Amon-Ra St. Brown, I thought Carr's flooring was better. If I had failed during the 1 p.m. ET games, I could have swapped on Lance for the roof.
week 2 results
I was lucky that I could easily land on Trey Lance. So I'll take that run well. I also think that, maybe it was right to listen to the information we have and get off Darrell Henderson. And I also lost on Kylan Granson vs. Juwan Johnson. But sticking to the point that I needed Amon-Ra St. Brown was the key to booking another win. And even though the results were poor on Saquon, Mixon, and Davante… their use would show that the plays were perfect. So I feel relatively good about the way I played this week, despite the worse results than the first week.

year-to-date results
week 1: 172.02 points, 80.7% won face to face
Week 2: 127.28 points, won 65.8% of the face-to-face