Laura Sutcliffe

Princess of Wales Kate Middleton wears a black Catherine Walker dress as she held an audience with the First Lady of Ukraine at Buckingham Palace.

Sunday afternoon, princess of wales The First Lady of Ukraine, Olena Zelenska, looked beautiful as ever as she graced the audience at Buckingham Palace.
Read: 10 poignant pictures of royals in mourning attire – heart touching tradition revealed
The royal wore a black coat dress by Katherine Walker while greeting the wife of Volodymyr Zelensky. She wore her hair in a lightly curled style and subtle make-up highlighted her face. The dress is the same style she wore to Prince Philip's funeral in 2021.
WATCH: Kate Middleton reveals what Prince Louis told her about Queen's death
Olena, the mother-in-law of two, wore a long black dress and matching blazer as Kate gave her a warm welcome. Women wore black as a mark of respect before the Queen's funeral.
MORE: Princess Kate's touching tribute to the Queen you totally missed
Olenna will join more than 500 heads of state and foreign dignitaries at the Queen's funeral on Monday, which will be held at Westminster Abbey in London. She will be joined by President Biden, French President Emmanuel Macron and Canadian Prime Minister Justin Trudeau, among others.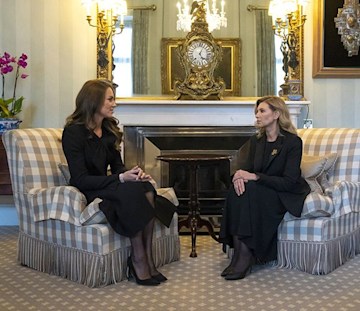 Princess Kate with Olenna Zelenska at Buckingham Palace
The 44-year-old will attend the funeral alone without her politician husband, who has not left Ukraine since the start of the war with Russia, which began in February.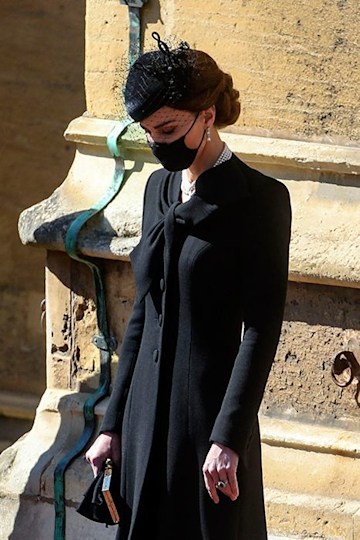 Kate wore the same style during Prince Philip's funeral in 2021
Following this meeting, Kate presided over the state event organized by King Charles III on the eve of Queen Elizabeth II's funeral. The princess wore a Catherine Walker dress as she joined her husband, Prince William. The couple supported King Charles, Queen Consort Camilla and Princess Anne, and more senior members of the royal family.
MORE: Princess Kate looks ethereal in fitted military coat and heels for going out
Kate met over 30 members of foreign royalty, including King Philip and Queen Mathilde of Belgium and Prince Albert and Princess Charlene of Monaco. US President Joe Biden and French President Emmanuel Macron were also present on the occasion.
Make sure you never miss the Royal story! Sign up for our newsletter to get all our celebrity and royal news delivered straight to your inbox.